Momentum Brewhouse Bonita Springs, Fl 49/365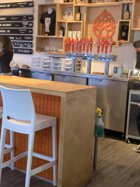 After enjoying our time at Palm City Brewery in Fort Myers a few weeks ago we decided to check out the brewery right in Bonita Springs, Florida. Momentum Brewhouse is located at 9786 Bonita Beach Road Southeast #1 (Feb 2019 but moving soon)
Besides beer as a main attraction they have different food trucks everyday of the week. While we were there on a Sunday there was a doughnut vendor and a pizza truck! Both were really amazing! Momentum is pretty small and quite popular. It drew a crowd quickly but I learned that they are expanding to a new location three miles east of 75 on Bonita Beach Road. The new location will be much larger which I think I will enjoy more.
There are tons of fun things to do outside like a super large Jenga set, corn hole and Mortal Kombat (arcade game), Inside there is a shelf full of board games and an old school Pac-Man arcade game.
The kids were able to stay entertained for a while and the adults enjoyed the different beers that Momentum had to offer! There is something for everyone of all ages for those of you looking for places with fun things to do with kids.
Momentum Brewhouse is open 7 days of week Monday-Thursday from 5:00pm-10:00 pm Friday 5:00-11:00 pm, Saturday 12:00-11:00 pm and Sunday 12:00-8:00pm. You can reach them at this phone number:(239) 949-9945
If you are a fan of micro-breweries, read also: Palm City Brewing Fort Myers, Florida.